Skip to product information

Free Shipping on All Orders

30 Days Happiness Guarantee

12-month Gold Star Subscription Included
A revolutionary smart baby monitor and AI-linked soft toy set built into one care-and-play solution for ages 0 and up.
Regular price
$584
Sale price
$429
Free 5-in-1 Camera Stand (worth $66) with bundle purchase! Save extra $30 with code PIXSEE30 (for new customers only).
Unit price
per
CES award winning care-and-play solution that will introduce your little one to the wonders of AI and to music, fun and play
A 24-hour smart guardian and family photographer who'll create memorable moments
Quality listening from age 0 - exclusive smart music features to support your child's development
First ever AI-linked soft toys engage children for stimulating cognitive play through uniquely curated songs and help build character 
Thoughtful, playful-chic and boutique-quality design for baby's happy childhood
Description

Parents can rest easy knowing that their baby is not only safe but also having fun and thriving.


Industry-leading audio-visual specs with AIs -  Gain peace of mind through multiple smart detection features for baby's sleep and safety, a smart music player that auto-plays melodies to soothe cries, and the world's first cry decoder that deciphers the reason for crying.⁠

Digital Keepsakes - Create stunning images and videos, whether manually or automatically. Collect beautiful memories and personalize them with exclusive features.

Smart Music Box - Your own baby soother. Enjoy expertly curated music and lullabies and record voices and customized sounds. Build a tight bond with your child, cope with separation anxiety, and create daily routines.


Pixsee Play Voice Command -  Increase convenience for parents and add fun to children's interaction.

Play while Learning - Make learning and development fun with Pixsee Friends. Each Pixsee Friend represents a different musical personality and comes with an exclusive playlist.

Carefully Crafted, Worry Free and Easy Care -  Pixsee Friends are sewn with delicate fabrics. All are allergen-free and contain no batteries, electrical, plastic, or metal parts. Fully tested to and passes the US and EU safety standards: ASTM F963, CPSC, CP65, CE and EN71.

12-month Gold Star Subscription Included - Combined with Pixsee Friends, you can enjoy more complete memories and comprehensive experience on advanced smart music box features.
Specifications

Pixsee Play

Dimensions
116 x 112 x 131mm

Weight
322g

Camera
1080p FHD video, 5MP 6-layer optical glass lens, ultrawide lens module, anti-reflective and anti-glare coating

Storage
SD card required to enjoy video playback and time-lapse videos of up to 1TB (holds up to 30 days recording). 

Night vision
High quantum efficiency night vision CMOS sensor, no red-light emitting LED night vision filter (3 meters distance range, wavelength 940nm), ambient light sensor

Speaker and microphone
3W built-in speaker and high sensitivity dual microphone

Temperature and humidity sensor
Detection range: 

Temperature: 0℃–60℃ (32℉–140℉) 

Humidity: 10%–90%

Security
Built-in secure cryptoprocessor with AES-128 bank-level encryption

AC power adaptor - output
DC 5V/3A
AC power adaptor - input
100–240V AC

Network requirements
Frequency: 802.11a/b/g/n/ac, 2.4GHz or 5GHz

WPA/WPA2-PSK(AES) encryption support, with a minimum of 5Mbps upload speed for best experience

Note: mobile hotspot not recommended

Product certifications

Pixsee Friends:

Dimensions

Bunee 320 x 110 x 60 mm
Trunkee 140 x 350 x 80 mm
Monkee 260 x 210 x 60 mm

Product Certifications

Tested by Intertek against ASTM F963, CPSC and EN71No Electrical, Plastic, or Metal Parts
Subscription Plans

The Pixsee App holds all the important features  and helps you be the best parent you can be.

This purchase includes a 12-month Gold Star subscription where you can enjoy more exclusive features.

Standard Plan (1G Capacity)

Video Playback
Two-Way Talk
Audio Monitoring
Cry Detection, Recognition and Recorder
Covered Face Detection
Temperature & Humidity Detection
Area Detection
Smart Capture
Manual Capture (5MP) & Record
Baby Bubble Tree, Festive Live e-card, Family Album
Smart Music Box
User Support + 1
Up to 3 Pixsee Cameras
Voice Command
& More

Gold Star Plan (30 GB Capacity) has EVERYTHING Standard Plan has, PLUS:

Editing, Saving, and Sharing of Photos and Videos
Time Lapse Video
Themed Stories and Frames
Smart Music Box w/ Built-in Songs (16 songs) + 4 new albums (50 songs)
Music Scheduler
Voice Recorder
Parentese Recorder for up to 30 minutes (* supports Pixsee Friends only)
Pixsee Friends Exclusive Playlist (20 songs) + 1 Gold Star playlist (30 songs)/ On-demand playback on Pixsee App
User Support for 6 People
What's in the Bundle

Pixsee Play Smart Baby Camera
Pixsee Friend - Bunee, Trunkee, or Monkee
12-month subscription of Pixsee Gold Star Plan
View full details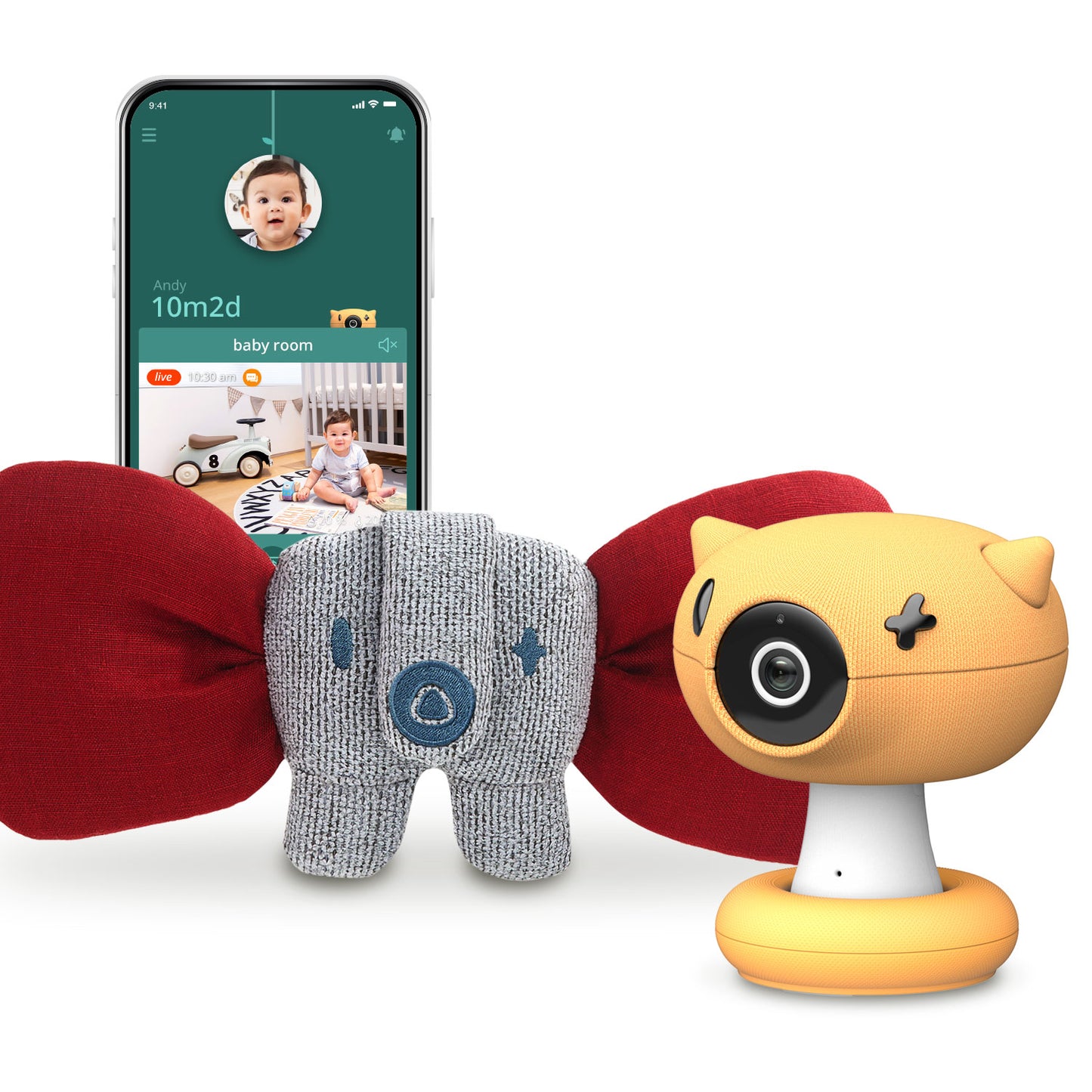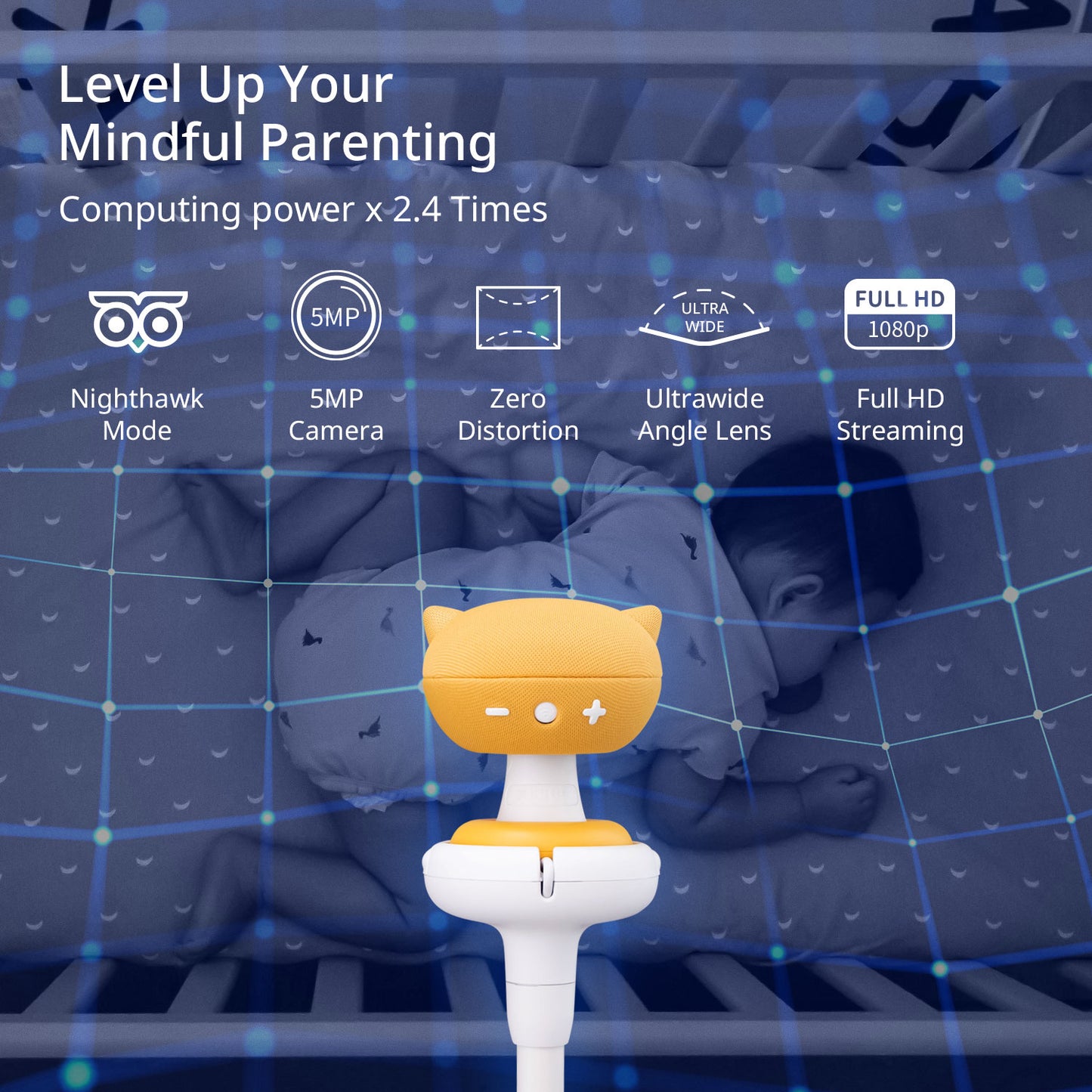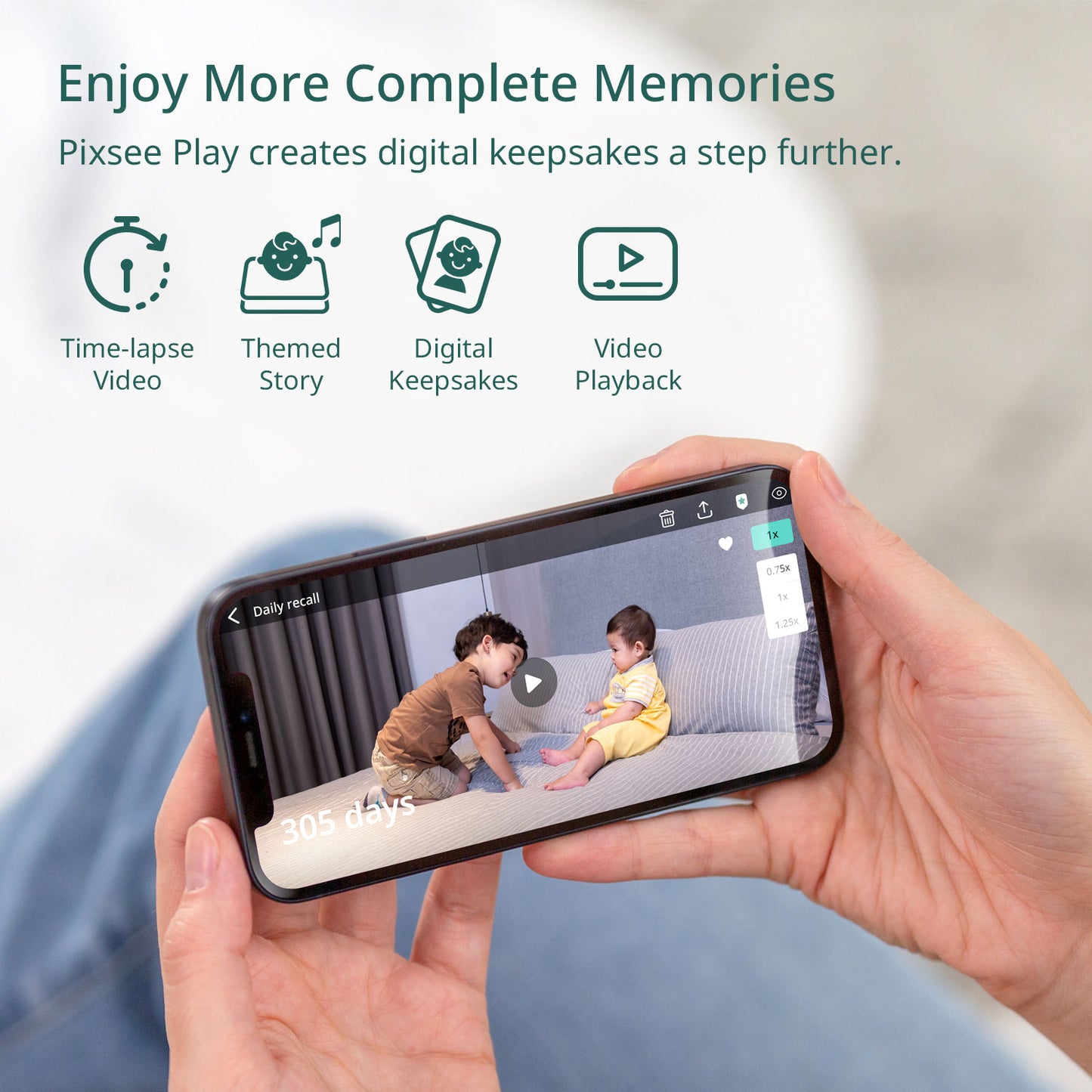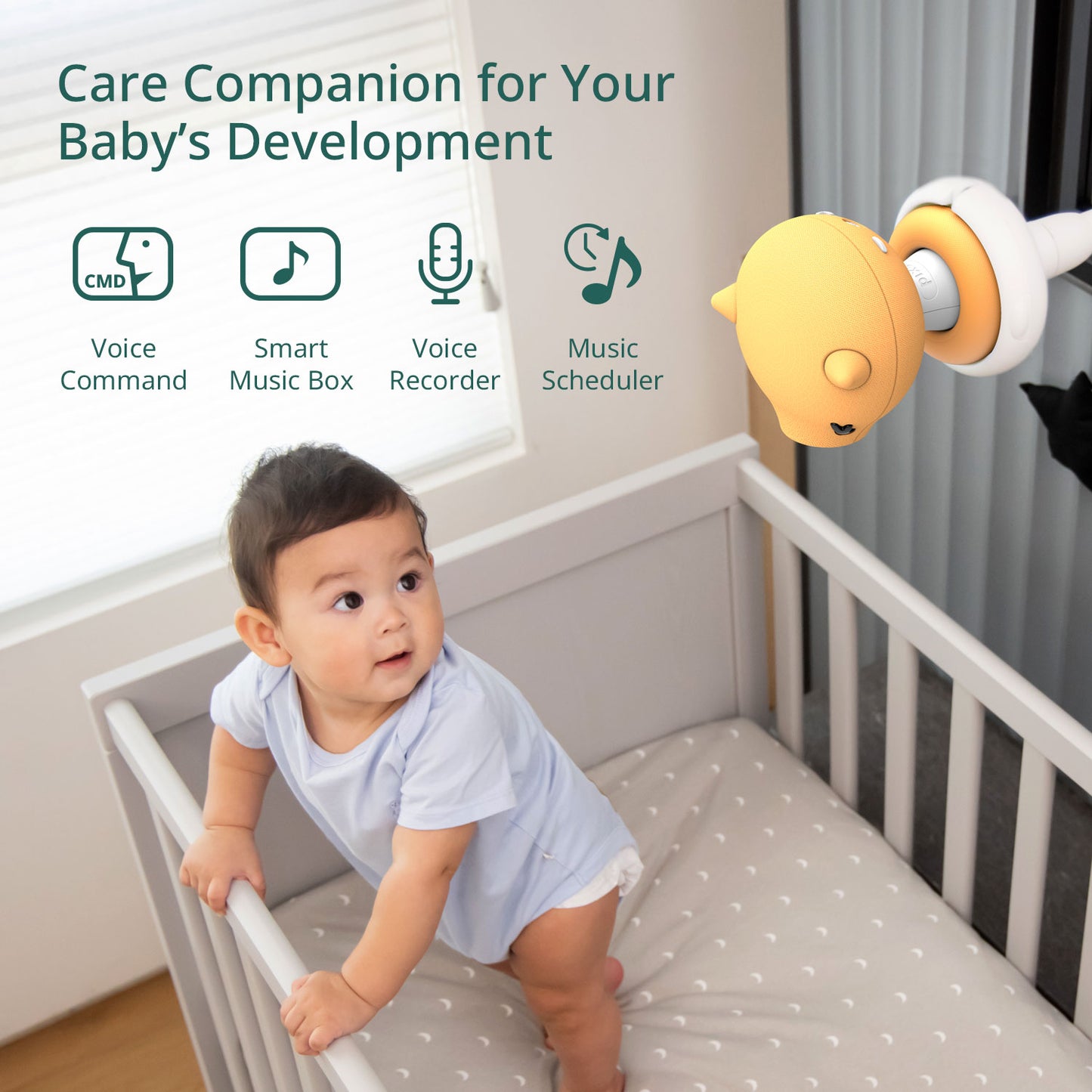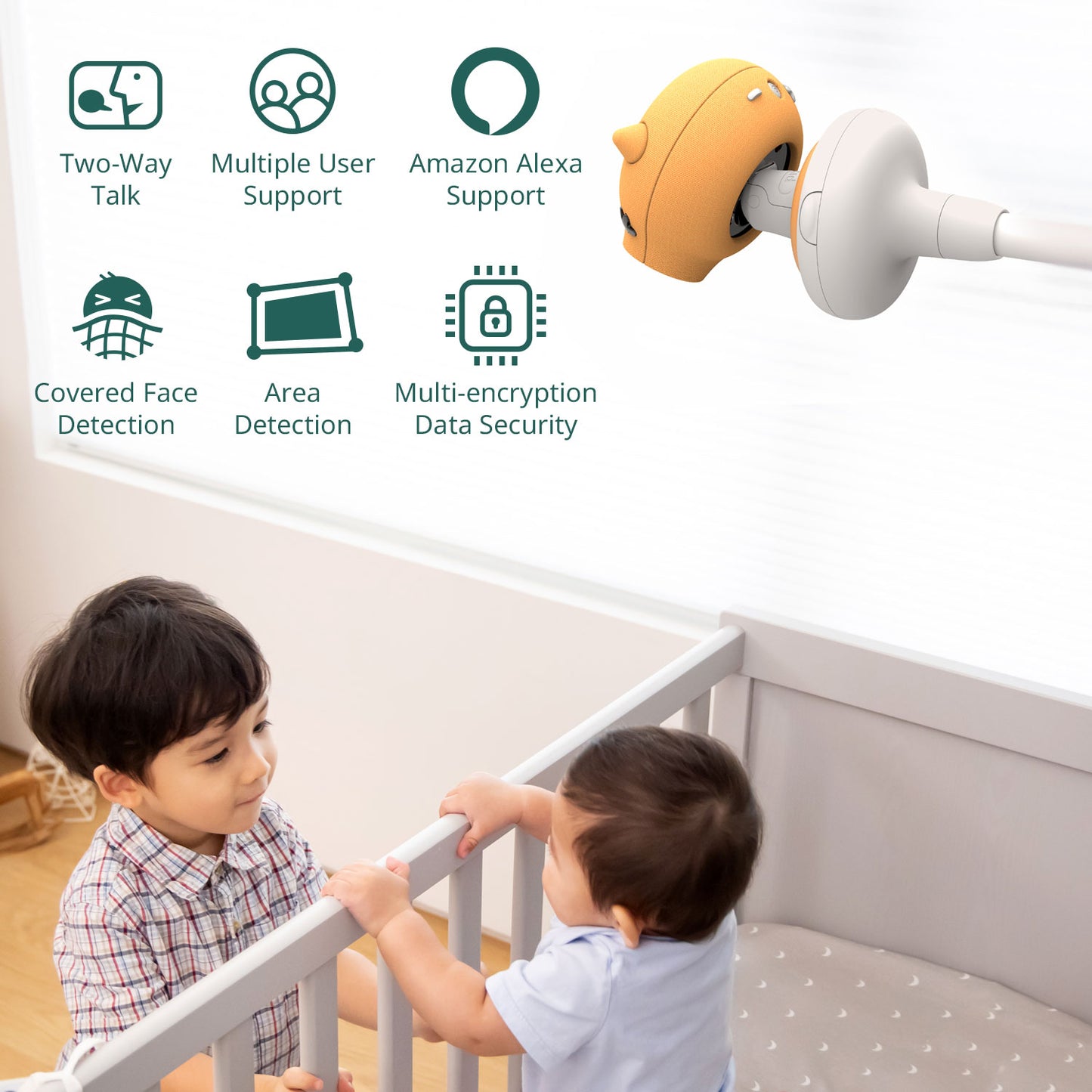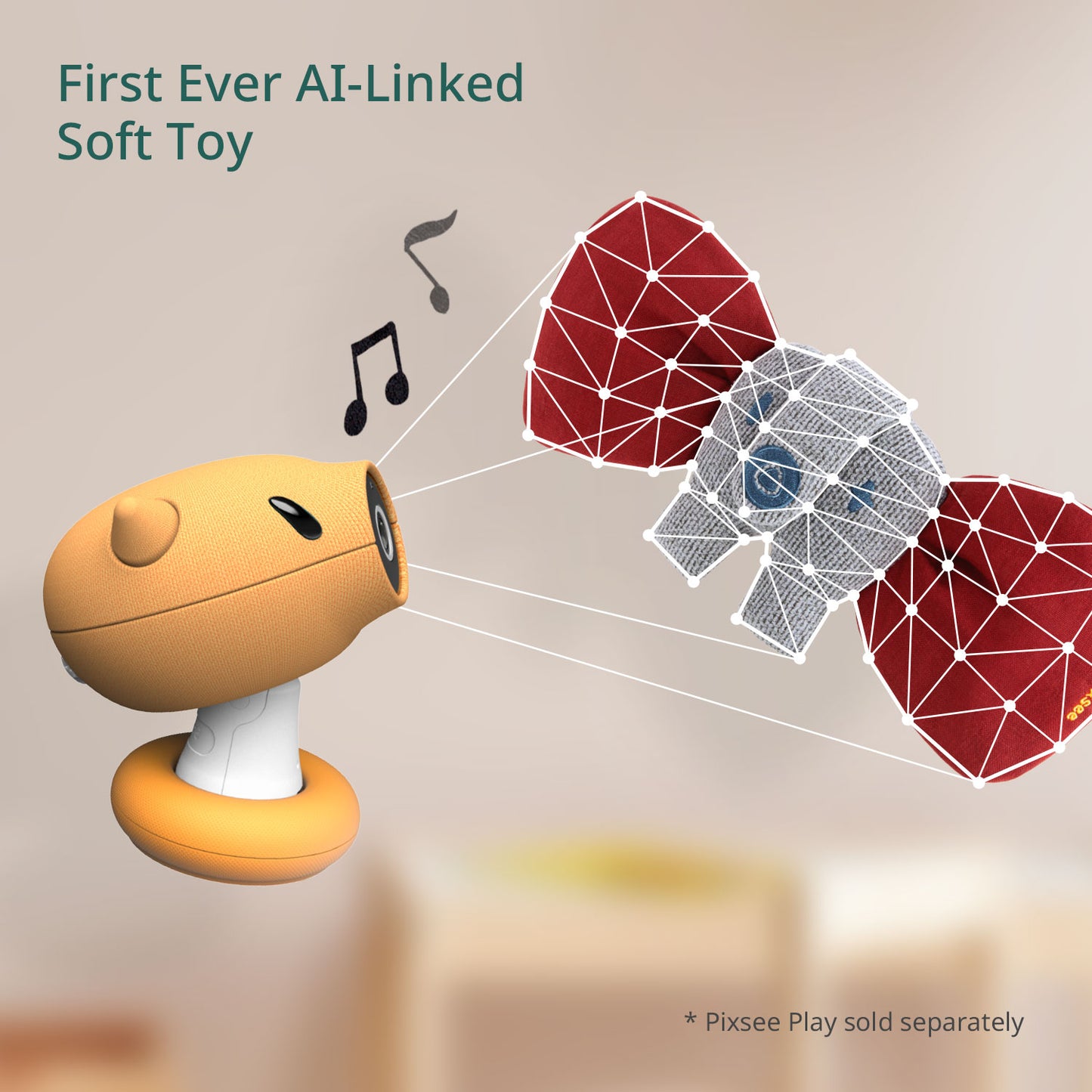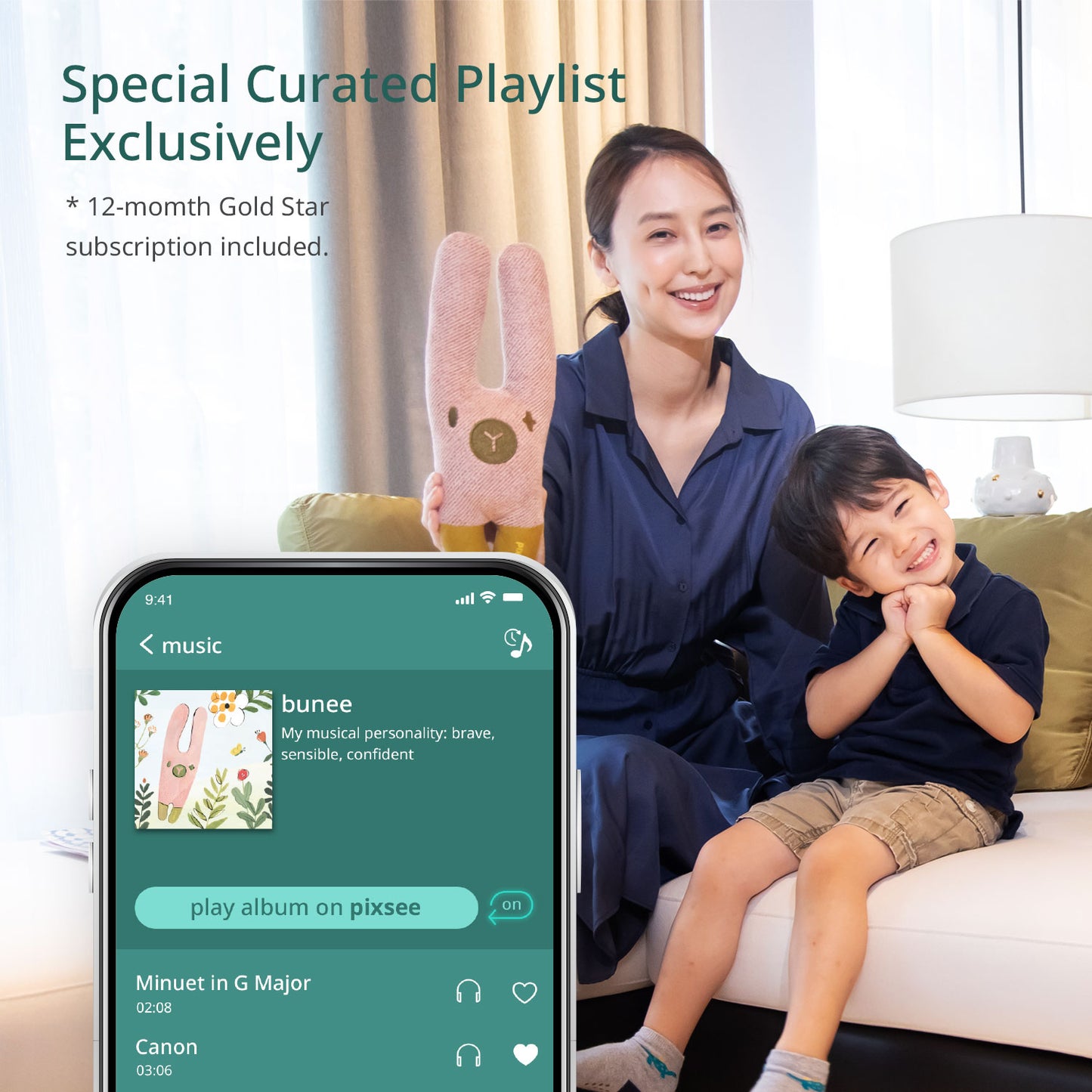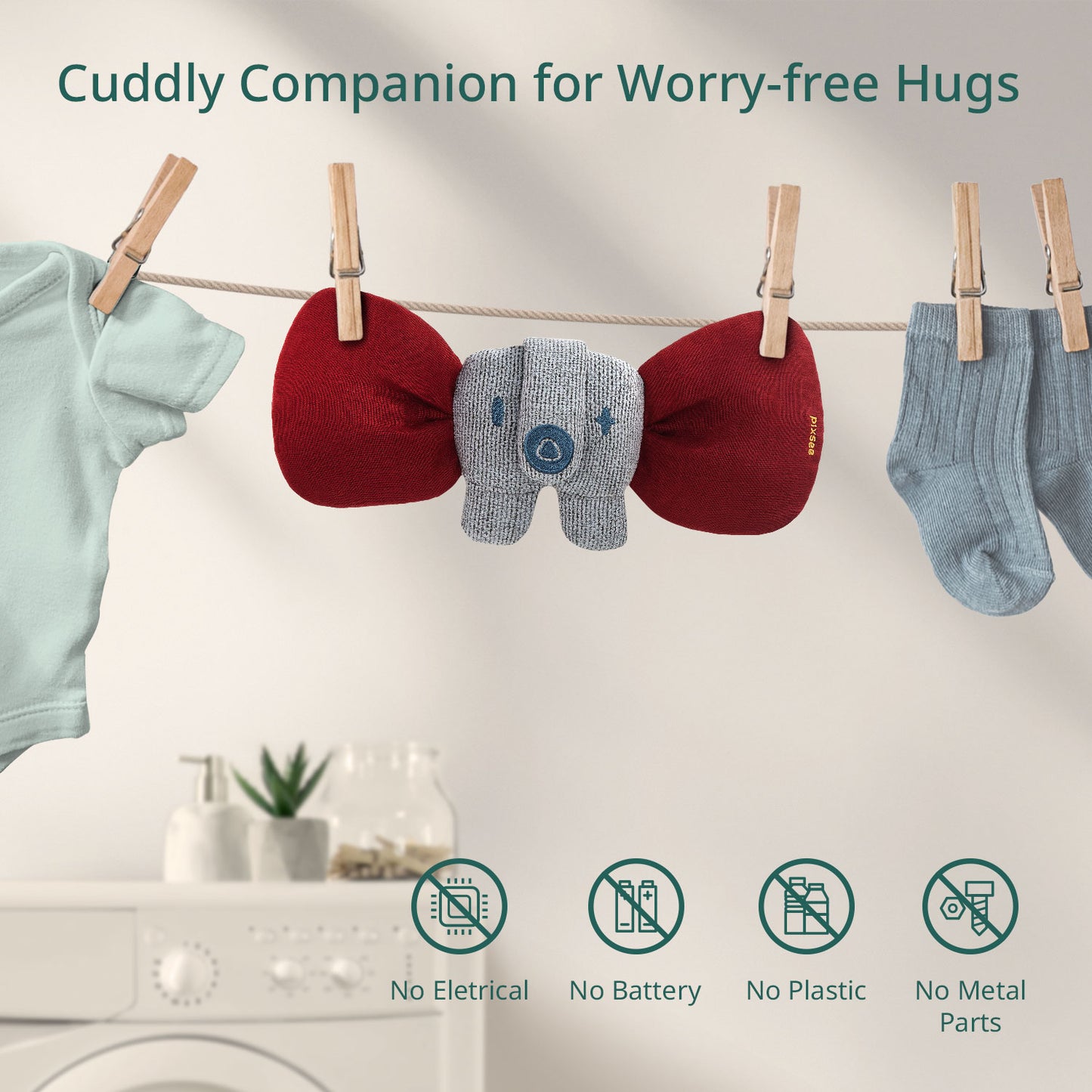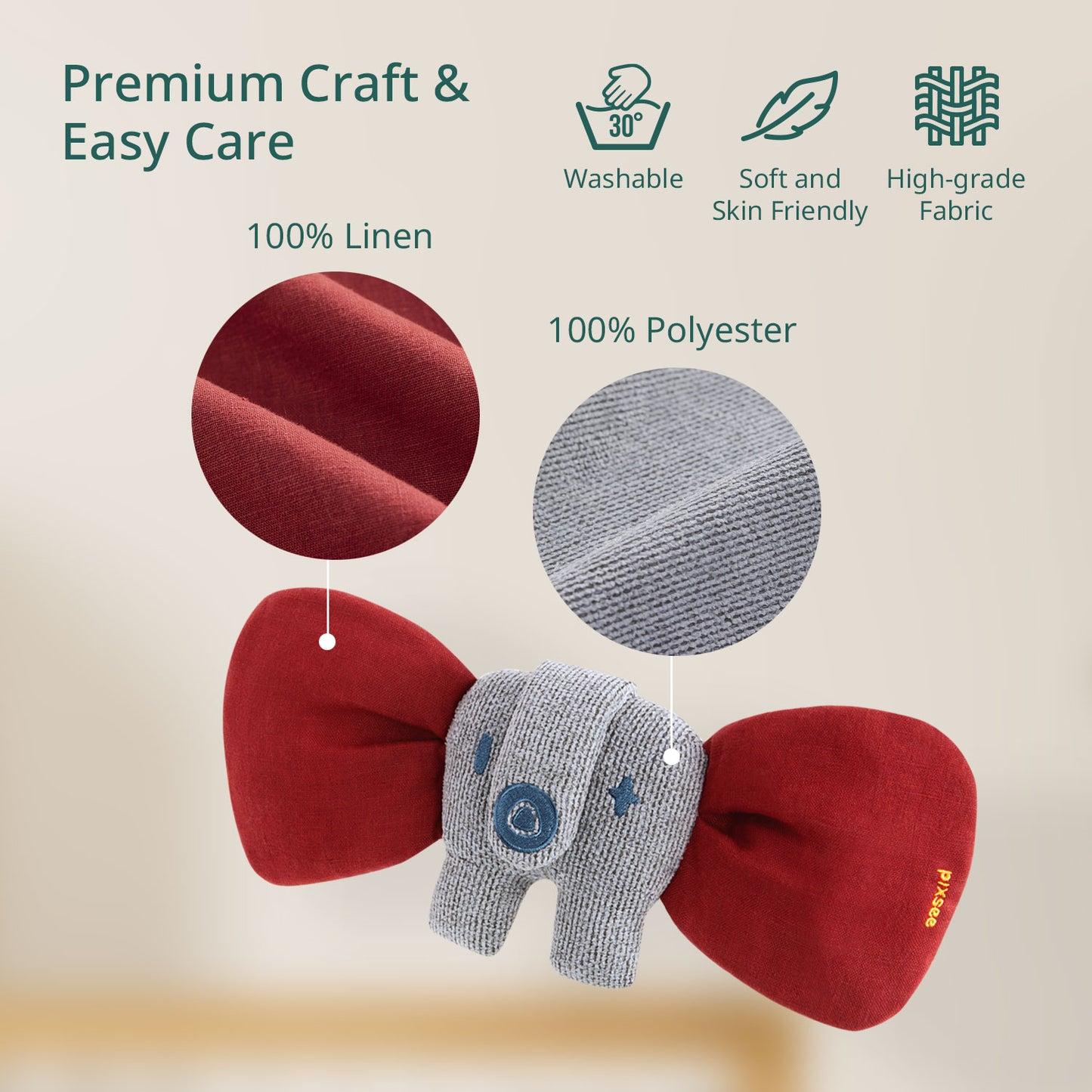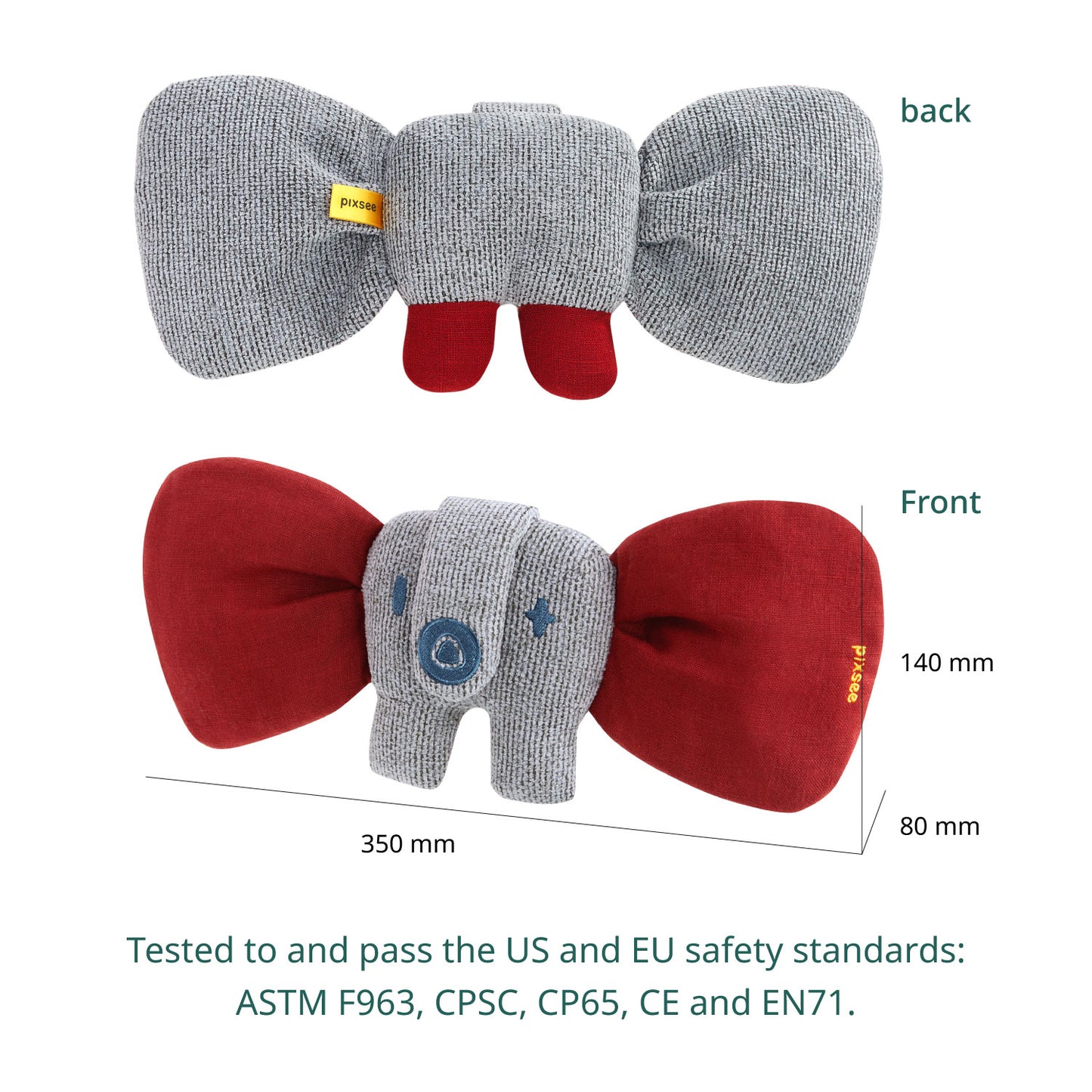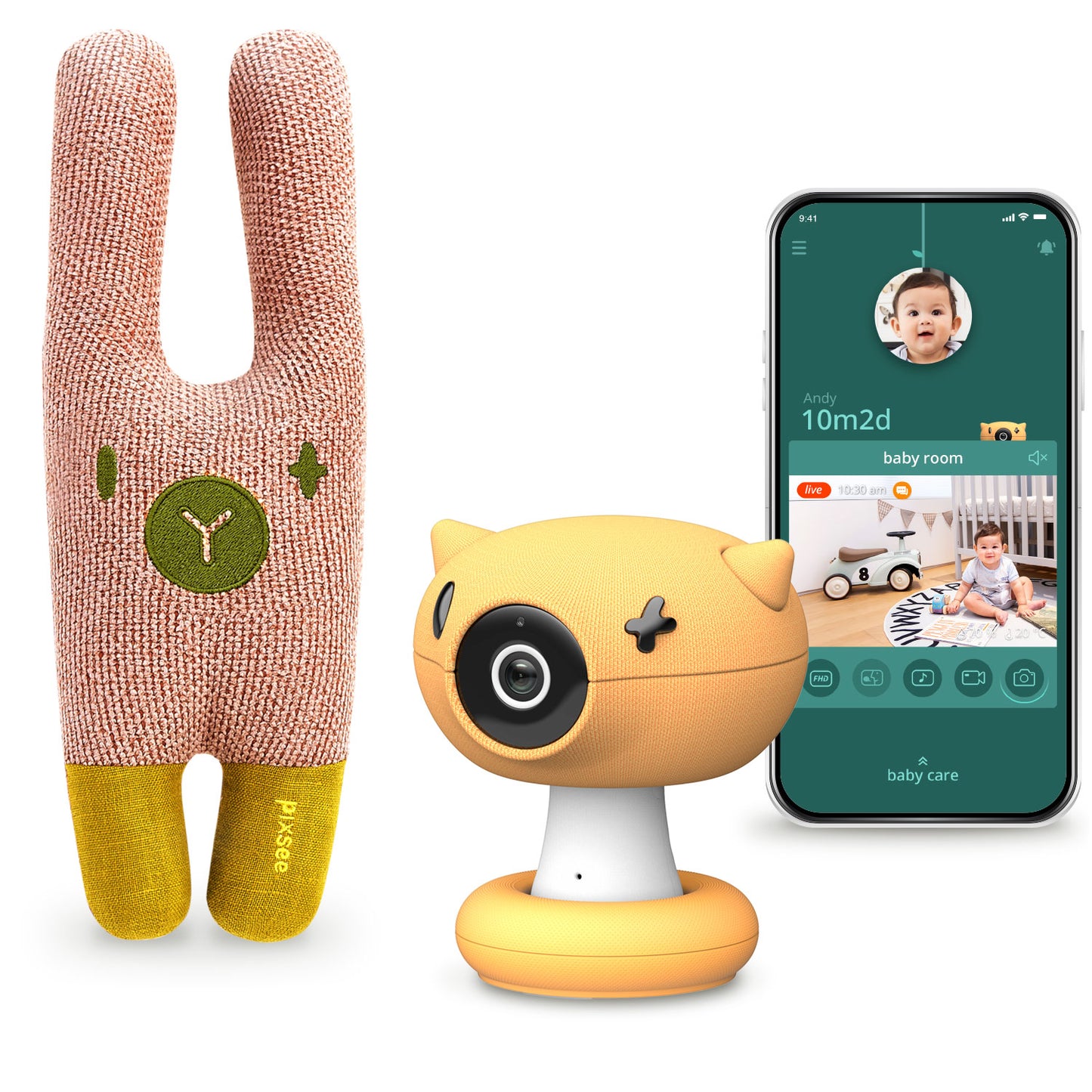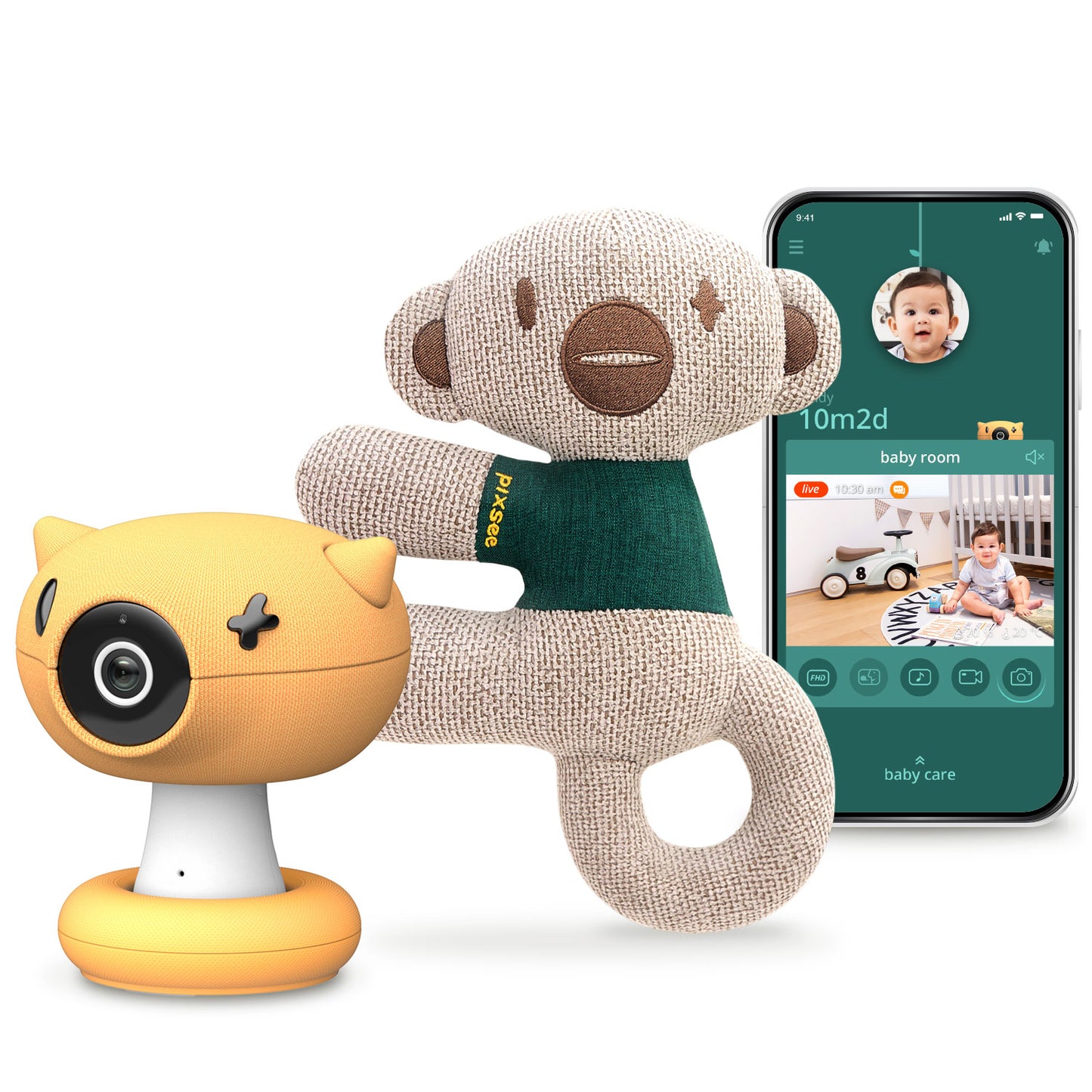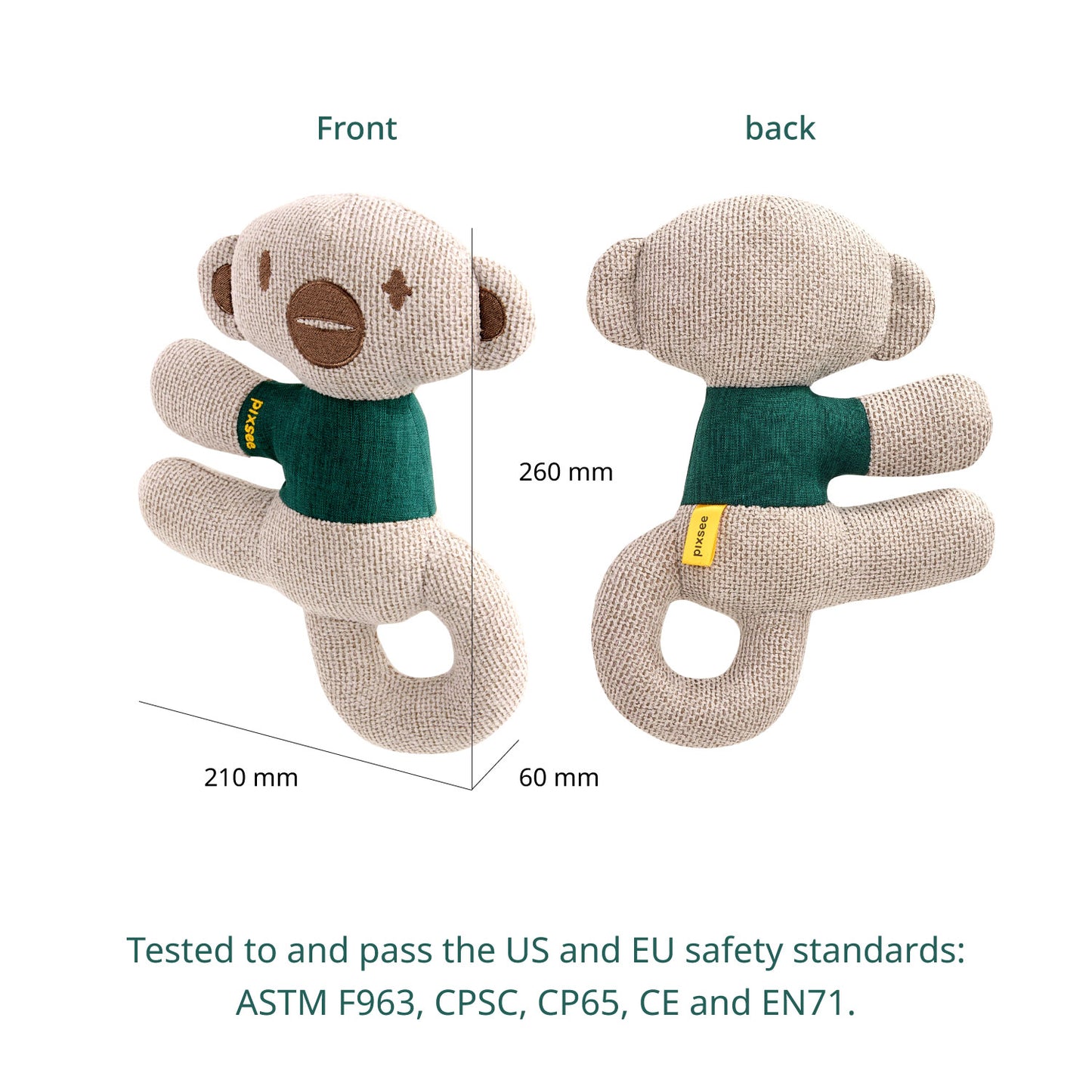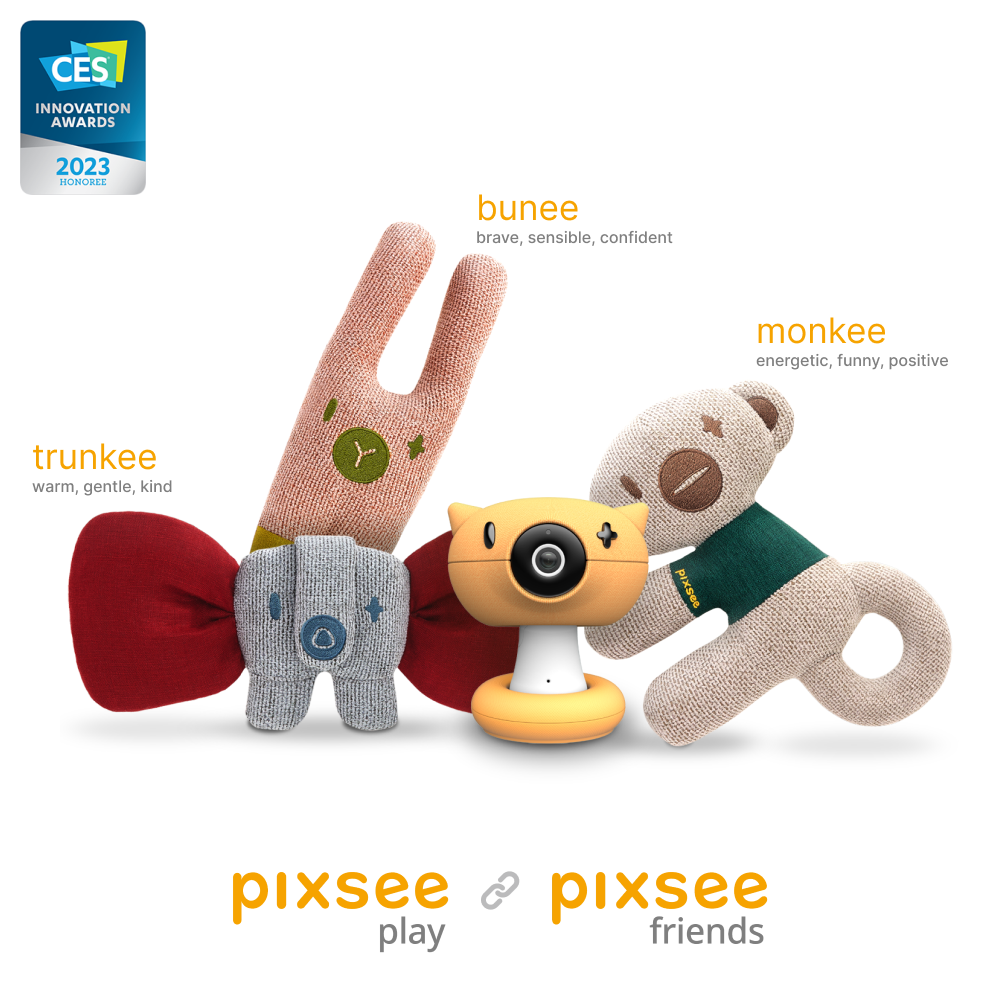 FAQs
Do I need to insert an SD card to use Pixsee Play?

Yes, you have to prepare your own local micro SD card for Pixsee Play device. The Video Playback and Time-Lapse Video features will not be available if an SD card is not installed, but all other functions will still work properly.

For SD card specification support, please refer to our official website: pixseecare.com/us/support
Can I use Pixsee Play without internet connection?

Wi-Fi is required for Pixsee Play to connect its camera to the App and cloud services. Alert notifications and photos may not be sent should Wi-Fi connections fail to operate.
How much Wi-Fi speed do I need?

The speed requirement for Pixsee Play is 5 Mbps for uploads or downloads.

If multiple mobile devices are simultaneously logged in for viewing, a higher transfer speed is required to maintain a stable connection.

*Friendly Reminder:

To make a stable Internet connection, we recommend connecting a single device to a Wi-Fi AP.
Where will the photos be automatically saved to, and how long will they be kept?

All the photos taken by the Pixsee Play will be automatically saved to the cloud storage and can be viewed on the App album.

Pixsee Planet Standard plan subscribers have 1GB of cloud storage.

If you upgrade your Pixsee Planet subscription to Gold Star, you will have 30GB of cloud storage during your subscription period.




Subscriber's rights:

The system will detect the storage capacity and send a notification email to remind you to back up your data before it reaches maximum capacity. If the backup is not complete within the notification period, some Pixsee App functions may be limited or unavailable due to reaching maximum capacity.
What devices are compatible with the Pixsee App?

Pixsee App is compatible with most iOS and Android devices.

Compatibility Requirements:

For Android - software version 10.0 or later

For iOS - software version 13.0 or later
Which countries is Pixsee App available in?

Pixsee App is currently only available on the App store and Google Play in Taiwan/ US/ Canada/ Philippines/ Mexico/ Thailand/ South Africa.
How is my personal data used and protected?

Pixsee Play adheres to the legal obligation of the General Data Protection Regulations (GDPR) and is aligned with the requirements of the California Consumer Privacy Act (CCPA) to safeguard personal data. Physical security chips and enterprise-grade cloud encryption technology from Microsoft Azure are utilized to protect user identity and data access management. All hardware devices, the Pixsee App, and cloud systems have multiple layers of encryption protection and use encryption streaming technology for data transmission. This ensures that third parties are unable to access image data which increases security.




For more information about Pixsee Play's data protection details, please refer to the site's "terms of service" page.
How do I share Pixsee Play with family members?

Pixsee Play can only be bound to one account at once, but your account and password may be shared with family members. To keep a stable internet connection, we recommend connecting no more than 3 devices at once.

Through the "multiple users" feature, parents can also invite up to 5 guests to follow and view your baby's growth. Rest assured that parents retain full control of their guests' privacy settings and customizations.




*Please note:If a third party account (WeChat or Apple ID) is used to register for the first time, you will not be able to share your account and password with friends and family for viewing upon their login. Parents can invite up to 5 guests to follow and view your baby's growth. Rest assured that parents retain full control of their guests' privacy settings and customizations through the "multiple users" feature.
Do I need a Pixsee Friend to play the Pixsee Friends' exclusive playlist?

If you are a Pixsee Planet Standard plan subscriber, you need to pair your Pixsee Friend first to play the Pixsee Friends exclusive playlist.

If you are a Pixsee Planet Gold Star plan subscriber, in addition to pairing with Pixsee Friends, you can also manually play the Pixsee Friends exclusive playlist from the App.
How many songs are in Pixsee Friends?

Each Pixsee Friend (Bunee, Trunkee, and Monkee) has its own exclusive playlist, including 20 built-in songs. You can also upgrade your subscription to the Gold Star plan to access an extra 30 songs on each exclusive playlist.
Can the Pixsee Friends be paired with multiple Pixsee Play devices?

Pixsee Friends is only compatible with one Pixsee Play device. If you have multiple Pixsee Play devices bound to your account and when one of the devices is paired with Pixsee Friends, you can also enjoy Pixsee Friends Exclusive Playlist on other Pixsee Play devices simultaneously.
Is the material used on Pixsee Friends safe for babies?

Pixsee Friends have undergone testing by Intertek and have passed ASTM F963, CPSC, and EN71 safety standards, which meet the safety and hazard chemical requirements set forth for both the US and EU markets. However, it is important to note that each baby is unique, so we recommend consulting with a doctor first, especially if you have any safety concerns.
How to clean Pixsee Friends?

Cleaning instructions for Pixsee Friends:

It is recommended to hand wash. After done washing, gently wring out the water and put it in the air to dry naturally. Do not brush, tumble dry, iron, bleach, dry clean or expose to the prolonged sunlight.